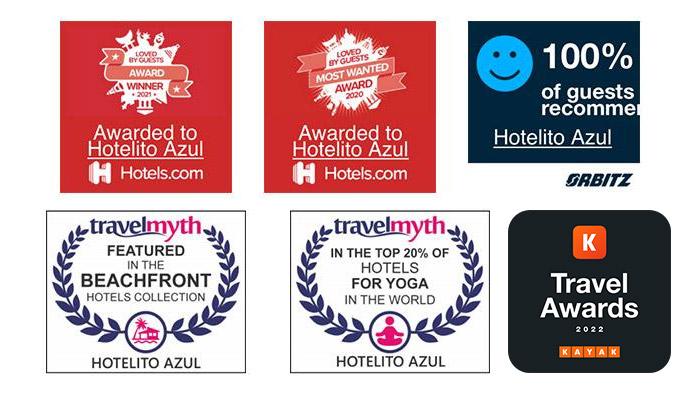 OCEANFRONT VILLA
There is a great truth and that is that life is too short. If you have not woken up in front of the sea, this is life telling you that it is time to live this unforgettable experience.
Delight yourself with the most spectacular ocean view, without having to leave your bed. Enjoy your favorite cocktail (or cocktails, we are a judgment-free hotel ), prepared by our distinguished mixologist, and relax on the private terrace.
On a side note, you´ll probably fall in love with the spacious and eco-chic bathroom the most.
OCEANFRONT SUITES
Have you ever wanted to escape from reality and just go live at the beach without worries? Well, the experience that you are going to have when you stay in this sophisticated suite is not very far from that reality.
The only way you could sleep closer to the sea, would be if you literally fell asleep on an inflatable mattress right on the ocean. Just a couple of steps away from your room terrace, feel the softness of Tulum's beach white sand, while enjoying the best ocean view.
Important to say, you'll get first row tickets for the most amazing spectacle, that is watching Tulum's magical sunrise right from your bed (different from any other you have seen), welcome to paradise.
OCEANVIEW SUITES
Bask in endless views of the ocean, ensuring a moment of serenity and relaxation. Rejoice at the daily smell of fresh artisan coffee right outside your door, ready to enjoy on a morning walk along the beach.
The suite is just a few steps from the white sand and the bar. For the perfect end to a perfect day, kick back and sink into the inviting hammock outside your terrace, while sipping on a glass of wine and listening to the ocean waves.
GARDENVIEW VILLA
Give yourself the gift of a unique experience in one of the most spectacular paradises that exist. If you are a nature lover that craves for an adventurous feeling of sleeping next to the ocean with all the comforts of the city, this villa is perfect for you. Witness the marvelous sunsets at the tallest rooftop in Tulum, with a delicious drink in hand (made by our award-winner mixologist) just a few steps away from your room.
GARDENVIEW SUITE
This life is about creating unforgettable moments and the best way to do that is by consciously creating them. Rejoice in the privacy and tranquility of this eco-chic suite, surrounded by the most magical blend of the jungle.
Wake up every day with the exquisite smell of fresh artisan coffee right outside your door, while taking a sip and enjoying the comfort of a beautiful hand-made hammock at the terrace.
Life is too short, what are you waiting for? Buy the ticket, book the room, and the rest leave it to us.